Natural Ventilation with Heat Recycling
Breathing Buildings first introduced the NVHR facade based natural, ventilation, heat recycling systems in 2013. Our latest models, the NVHR 900, NVHR 1100 an 1700 benefit from continuous improvement programmes. This includes a more robust metal fabricated enclosure with pre-coated zinc, numerous performance and energy saving enhancements including a thermally insulated damper.
These triple Award winning products are installed in thousands of premises in the UK including schools where they supply energy efficient, enhanced fresh air and comfort to occupants all-year-around. The units utilise the natural internal heat gained from people and equipment and external fresh air to create the perfect combination to enhance indoor comfort for all occupants.
These systems are energy efficient due to the fact that they utilise free ventilation via natural passive buoyancy driven air flows and therefore save on overall building energy costs.
Discover more utilising the links on the right that include sales brochures, general assembly and installation drawings and links to the REVIT files that are available to download from the BIM store.
NVHR Air Flow Strategies
A Classroom Layout in Natural Mode
Damper opens
Single-sided ventilation
Works with other openings in the space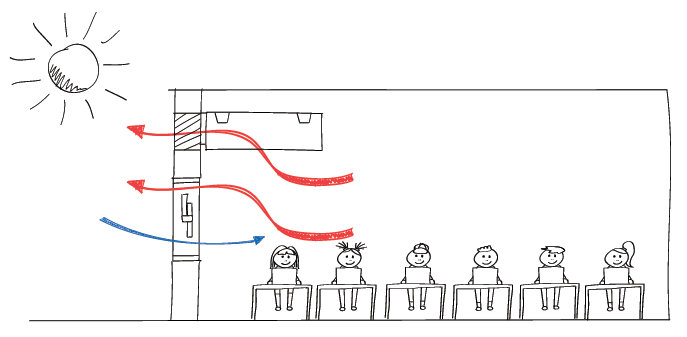 A Classroom Layout in Summer Boost
Damper opens fully
Air delivered to rear of the space
Natural exhaust through the units
Night cooling

A Classroom Layout in Winter Mixing
Draught mitigation strategy
Mixes warm room air with fresh external air
Natural exhaust through the unit

NVHR 900
NVHR 1700