What is Mixing Ventilation?
Breathing Buildings pioneered the concept of mixing ventilation with the discovery and development of the proprietary e-stack ventilation system, as part of a major research programme at the University of Cambridge. Dr Shaun Fitzgerald, one of the lead researchers on that project, left his academic post to co-found Breathing Buildings, with the aim of bringing that technology to the wider building services market.
So, how does mixing ventilation work?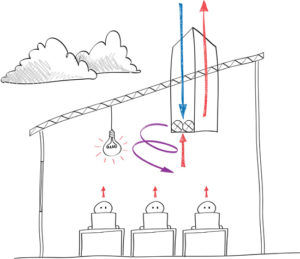 In winter, when the outside air is too cold to bring directly into the room, fresh air entering the room (ideally at a high level) is premixed with the warmer room air in order to bring it to a comfortable temperature before it reaches the occupants of the room. This allows fresh air to be supplied to the occupants while mitigating any possibility of cold draughts. Mixing ventilation saves energy by using heat gains from the occupants and electrical equipment in the room to heat the incoming air, instead of requiring additional heating from a radiator.
Avoiding Cold Draughts
Dr Shaun Fitzgerald discusses how the Breathing Buildings e-stack mixing ventilation system works and the importance of horizontal mixed air delivery.
When it comes to mixing ventilation, beware poor imitations because the science will come back and bite you. Breathing Buildings pioneered the concept of mixing ventilation and have been helping clients deliver low energy mixing ventilation since 2006. In our latest video founder and Managing Director, Dr Shaun Fitzgerald, explains how mixed air must be delivered horizontally to meet the PSBP Facilities Output Specification. It is something that only Breathing Buildings do, so come and talk to the company that understands the science of natural ventilation.