Breathing Buildings' Awards Shortlisting Recognises the Value of Collaboration when creating Healthy Working Environments
Recognising the power of working in collaboration with other project team members and the vital importance of good indoor air quality (IAQ) the HVR Awards has shortlisted Breathing Buildings, a leading provider of controlled hybrid ventilation systems, in the Collaboration of the Year category at its 2022 awards. The company worked in collaboration with the East Anglian Air Ambulance (EAAA) and the project team to improve IAQ and the working environment at their new headquarters, Helimed House.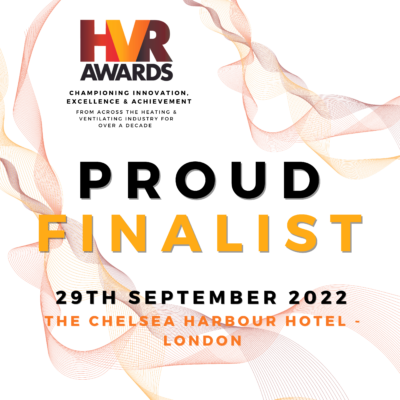 With sustainability at its heart, the EAAA HQ project extended and largely rebuilt EAAA's original facility at Norwich Airport as a base for their operations, including the Helicopter Emergency Medicine Service (HEMS), which was able to be extended to 24-hours per day, ground support, fundraising and training. Ventilation was an integral part of the project with Breathing Buildings collaborating with the team on the ventilation for the brand-new section of the building, which features Breathing Buildings' NVHR 1100 natural ventilation with heat recycling units together with S1500L e-stack ventilation units.
Designed by architects Feilden+Mawson, the brief was to create a practical building that was a great place to work while being sustainable and it had to offer payback in terms of running costs. After working on some initial designs, they were joined by Johns Slater and Haward (M&E) and Canham Consulting (Structures and Civils) where they were able to drill into the detail. Having successfully used Breathing Buildings' hybrid ventilation over a number of years in new build schools, it was the M&E Consultant Johns Slater and Haward who recommended Breathing Buildings' hybrid ventilation system as the ideal solution to provide good IAQ and comfortable indoor temperatures using low energy solutions.
This ventilation solution was presented to EAAA who were keen to learn more. To do this they visited the Breathing Buildings factory in Soham along with the FM team, Architect and Project Manager. After seeing the evidence of its performance and the clear benefits to the workplace and the team, EAAA gave the go ahead to proceed.
East Anglian Air Ambulance CEO Matthew Jones commented: "We are thrilled that the EAAA headquarters has been recognised in the HVR Awards. Creating a good working environment is a vital part of attracting and retaining excellent people. This is key in developing our mission to do the very best for every patient and their loved ones, and raise the required £16.6m every year to continue to deliver this charitable service. Once the performance of Breathing Buildings' hybrid ventilation system had been demonstrated and we saw the clear benefits it provides to the workplace, we were fully behind the idea."
Louise McHugh, Operations Leader at Breathing Buildings commented: "We are delighted that Breathing Buildings is a finalist in the Collaboration of the Year category in the HVR Awards. Breathing Buildings prides itself in working as part of a project team to help design the most effective draught free ventilation so that it can provide good indoor air quality and good thermal comfort. Our ventilation solution for the EAAA project ticked all the right boxes providing a comfortable work environment for employees."
Breathing Buildings' NVHR® offers energy efficient hybrid ventilation with almost 50% reduction in energy and so operating costs. NVHR® comprises both natural and mechanical ventilation. Allowing low-energy hybrid natural ventilation, even in buildings with limited facade and roof space, highly efficient mixing fans mitigate cold draughts in winter and provide a ventilation boost in summer. Fitted with external and internal temperature sensors and an intelligent controller, the system monitors conditions to create an ideal indoor environment, boosting both productivity and wellbeing. NVHR® optimises indoor air quality, comfort and efficiency by automatically switching between natural, hybrid and mechanical ventilation, maximising benefits.
The HVR Awards recognises and rewards companies that demonstrate excellence in their field and true innovation in the way that they operate or in what they produce. The winners will be announced at an awards ceremony on 29th September at The Chelsea Harbour Hotel, London. Find out more at www.hvrawards.com.