Breathing Buildings Helps Make Use of Free Heat Gains with Expansion of Award-Winning NVHR Range
Breathing Buildings, a leading provider of controlled natural and hybrid ventilation systems, has added to its award-winning natural ventilation with heat recycling (NVHR) range with its new NVHR® 1700. This larger unit is ideal for leisure centres, halls, sport facilities, shopping centres, offices, schools, and other buildings with high heat gains, with the NVHR® 1700 offering excellent ventilation and thermal comfort. Meanwhile, in school classroom applications the NVHR® 1700 now allows one unit to be specified rather than two, which means a simpler and quicker installation.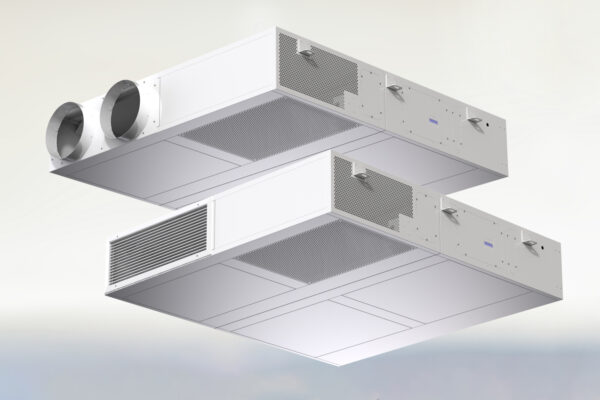 Breathing Building's NVHR® 1700 offers enhanced natural ventilation with hybrid technology in a slimline, compact, lightweight and energy efficient unit. The unit is designed to fulfil the ventilation needs automatically with its demand-controlled equipment, best-in-class flowrate, low noise levels and low energy consumption. The NVHR® 1700 leads the way in efficiency with specific fan power levels as low as 0.08 W/l/s and in larger applications provides airflow rates as high as 540l/s.
The NVHR® 1700 also boasts other additional benefits beyond Breathing Building's current NVHR range of products, since one single unit can be used to ventilate a room or space rather than two smaller units. As a result, when installing the NVHR® 1700 only one penetration through the external façade is needed rather than two and only one external weather louvre is required. Plus, since there is only one unit to wire to less cabling is required during installation and only one power supply and one fuse spur are needed. All these benefits save time and so costs when it comes to installation. In addition, the NVHR® 1700 also features an upgraded user interface which makes it easier for occupants to control the ventilation and so achieve the indoor air quality and comfort required.
"The NVHR® 1700 is the ideal ventilation solution for your rooms, making use of their free heat gains to provide superb air quality and excellent thermal comfort without the upfront cost and future maintenance bills – essential in an energy and cost of living crisis," said Louise McHugh, Operations Leader at Breathing Buildings. "NVHR® provides ultra-low energy, natural ventilation with hybrid technology, offering energy savings and so reducing operating costs."
The NVHR® hybrid ventilation system's ultra-efficient facade-based mixing ventilation allows single-sided, enhanced natural and hybrid ventilation in deep plan spaces whilst making the most of internal heat gains to deliver superb thermal comfort and indoor air quality. Hybrid ventilation focuses on the vital balance of indoor air quality, thermal comfort, and efficiency by choosing the most appropriate mode of ventilation based on the internal and external conditions, allowing the NVHR to be in the most energy efficient mode possible at all stages. This range of products tackles future environmental issues while providing excellent indoor air quality.
NVHR® comprises both natural and mechanical ventilation. Allowing low-energy hybrid natural ventilation, even in buildings with limited facade and roof space, highly efficient mixing fans mitigate cold draughts in winter and provide a ventilation boost in summer. Fitted with an external temperature sensor, and an internal temperature and CO2 sensor, as well as an intelligent controller the system monitors conditions to create an ideal indoor environment, boosting both productivity and wellbeing.
NVHR® optimises indoor air quality, comfort and efficiency by automatically switching between natural, hybrid and mechanical ventilation, maximising benefits. The unit has three modes: Natural Mode, Summer Boost and Winter Mixing. The mid-season Natural Mode enables the unit to maximise the benefits of passive ventilation by opening the damper and ventilating with zero cost. The Summer Boost function enables the hybrid technology to maximise ventilation and cooler air. In winter the heat recycling strategy offers huge heating-bill savings while providing ventilation to ensure excellent indoor air quality and thermal comfort.
In addition, the NVHR benefits from Secure Night Cool mode which during the summer months provides natural ventilation at night to purge excess heat and reduce the internal temperature to 18 degrees C to help ensure a comfortable indoor temperature at the start of the day.
Featuring easy-to-use controls with manual override NVHR® allows buildings without a Building Management System (BMS) to benefit from the technology while also offering full BMS integration. Furthermore, the NVHR 1700 has ultra-easy app-based commissioning for a faster, safer, and more accurate installation
Easy to install with window or wall interface, the modular design of the NVHR® unit offers flexible installation with different options available depending on the application. When no ceiling void is available the unit can be installed as an exposed unit. NVHR® can also be installed as a ducted unit within the ceiling void. In addition, it is possible to install NVHR® in a bulkhead arrangement.
Designed to meet thermal comfort and air quality criteria of: BB101 (2018); PSBP FOS; ESFA Annex 2F and CIBSE TM52. The Breathing Buildings NVHR® also offers quiet operation and is fully compliant for classrooms, science laboratories and offices. Countless schools and colleges nationwide benefit from Breathing Buildings ventilation units, many of which feature on the company's website. In addition, the NVHR® is ErP compliant and CE certified.
For further information on NVHR® and E-stack ventilation, as well as other products and services offered by Breathing Buildings, please contact our team should you have any questions and we will be happy to help you.