Learning in Comfort
CIBSE Journal Article - April 2016
In the latest edition of CIBSE Journal, Breathing Buildings discusses how the Priority School Building Programme (PSBP) has invested more than £5bn into UK schools since its inception in 2011. Schools funded through the PSBP are required to adhere to building performance criteria defined by the highly-regarded Facilities Output Specification (FOS) which largely exceeds the standard criteria of Building Bulletin 101, the legally-binding design guidance referred to in the Building Regulations.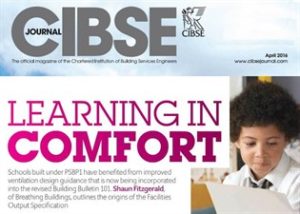 Now, in 2016, the Education Funding Agency (EFA) is set to release a fully-revised update to BB101, which incorporates many lessons learned from the success of the PSBP and FOS. The new edition of BB101 differs from previous guidance in four key areas:
Improved criteria for defining summertime overheating;
Clearer classification of acceptable indoor air quality;
Clearer definition of what constitutes a draught;
Stricter requirements on avoiding cold draughts in natural ventilation systems.
As the next phase of the Priority School Building Programme looks to invest a further £4.2bn by 2018, Breathing Buildings looks forward to a promising future for education in the UK.
Read the full article by clicking on the following link Learning in Comfort