CIBSE Technical Symposium 2016
BB boys visit Heriot Watt University, Edinburgh
Last week, three intrepid engineers from the Breathing Buildings ventured into the far north (Edinburgh) in search of Haggis, Kilts and the CIBSE Technical Symposium at Heriot Watt University.
We failed to consume any Haggis and didn't wear a kilt the whole two-days, but we did enjoy Bagpipes at sunset from Edinburgh Castle, and supped more than a wee dram of the local Whiskey – which went down very well indeed. We even managed to attend the symposium too!
Hosted this year at Heriot Watt University, the CIBSE Technical Symposium 2016 brought together a designers, engineers, architects and industry stalwarts in a broad forum of idea sharing and discussion. Notable by absence was any large scale representation from the building contractor side of the industry, a fact noted by a number of attendees, and possibly something CIBSE could look to improve on next year.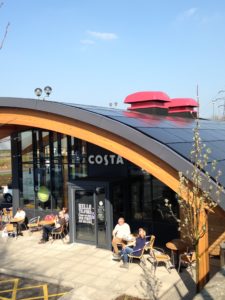 Dr Owen Connick led the BB charge with a case study presentation on the Costa Coffee eco-pod at Wrekin Retail Park in Telford. The full case study can be downloaded from the CIBSE website. The talk covered the highly energy efficient design of the building, which includes natural mixing ventilation for the provision of fresh air in all seasons, alongside modern air source heat pump technology linked to an underfloor slab heating/cooling manifold and air-con cooling to cope with peak summer periods. The building fabric is highly-insulated, well-sealed and built with sustainable timber construction, all features which contribute to the net zero energy ambition of the development. As a case study presentation, the talk also covered a few of the lessons learned from the 12 months of post occupancy evaluation, which Breathing Buildings have been able to achieve through remote monitoring. Numerous features have been improved since the building was first opened in April 2015, including better collaboration between the various equipment manufacturers, whose kit all contributes to the overall building performance.
More information on Breathing Buildings' contribution to the Costa eco-pod can be found in our published article from back in 2015.
Away from our own session, the BB boys were very impressed by numerous talks. Not least Andrew Comey of Sefaira, who spoke about the need for better early stage sizing of HVAC systems. Sofia Flucker of Operational Intelligence discussed how she applies the Kolb learning cycle in workshops on the design for data centres. and Roderic Bunn presented some extensive analysis he had done on building use survey data collected at 1, 10 and 15 year intervals after initial handover – the headline I took away from which was: if you put 900 people in a building designed for 500, those people will be a bit less happy.
Vasilis Maroulas of Arup gave a very comprehensive talk about using CFD as a design tool to model mechanical displacement ventilation in a London office building. The combination of design techniques and knowledgeable understanding was testament to the quality of the piece of work.
Stephen Selkowitz of Lawrence Berkley National Laboratory, in the US, spoke about the potential of advanced facades, using examples from his own research and from installed projects to demonstrate the technical performance of these systems, which currently suffer from limited adoption.
In the final session of the conference, Phil Jones gave a highly engaging talk on Water Source Heat Pumps. I learned a lot, and it was a great mix of theory with examples. If there's a market for the technology then the potential is certainly there.
We enjoyed many more talks of interest, too many to mention, and despite a number which were so droll that it would be cruel to name and shame (you know who you are), overall the symposium was inspiring, engaging and good fun to boot.
Huge credit must go to the organisers; the evening at Edinburgh Castle was a lovely addition to a busy and highly engaging programme. Thanks CIBSE – See you next year!