Breathing Buildings Welcomes updated BB101 guidelines
Breathing Buildings has welcomed the 2018 edition of BB101: Guidelines on ventilation, thermal comfort and indoor air quality in schools. Published recently by the Education and Skills Funding Agency, the document is aimed at technical professionals involved in the design, specification and construction of new school buildings and the refurbishment of existing buildings. This Building Bulletin sets out the regulatory framework for school ventilation giving recommended performance levels for compliance with UK regulations while also providing non-statutory guidance on ventilation, thermal comfort and indoor air quality in schools.
The BB101 2018 guidance has changed significantly since the previous BB101 published in 2006. Focusing on the vital balance of indoor air quality, thermal comfort and efficiency BB101 2018 sets more stringent air quality targets, is tougher on summertime overheating, and recommends a pre-mixing of air to eliminate cold draughts. Hybrid ventilation systems are also introduced in BB101 2018 alongside traditional natural and mechanical ventilation, offering specifiers an alternative ventilation design strategy for schools.
"We welcome the updated BB101 since it comprehensively addresses the issues of air quality, thermal comfort and energy use all of which are key to the design of ventilation systems in schools. This guidance will help ensure that we have efficient, healthy and comfortable environments in schools so children will benefit from effective teaching and learning spaces," says Matthew Bray, Commercial Director at Breathing Buildings.

Showing the government's new tough stance on air quality in the classroom the guidelines include maximum CO2 limits which cannot be breached for 20 consecutive minutes. BB101 has also established air flow requirements for science labs, halls and gyms to help ensure children experience healthy indoor environments.
The new guidance advises that where natural ventilation is used, or when hybrid ventilation systems are operating in natural mode, in general teaching and learning spaces the daily average concentration of CO2 must be less than 1500ppm when occupied. The maximum concentration should not exceed 2000ppm for more than 20 consecutive minutes each day. Meanwhile, for mechanical ventilation the daily average CO2 level must be less than 1000ppm and must not exceed 1500ppm for more than 20 consecutive minutes each day. This new guidance is set to make significant improvements to indoor air quality in teaching spaces.
Summertime overheating is also re-addressed in the 2018 edition of BB101 with thermal comfort criteria aligning more closely with other building types. As a result, overheating needs to be assessed in terms of operative temperature using the DSY1 2020 weather file during the occupied period 9am – 4pm Monday to Friday between 1 May and 30 September, including the summer holiday period. This will help reduce overheating and improve comfort in classrooms.
Another change to BB101 has been the additional guidance on the need to eliminate cold draughts in teaching spaces. This is important since draughts can either raise heating bills by increased use of radiators or affect air quality with teachers closing windows to reduce draughts. Therefore, in winter the new guidance advises the mixing of incoming cold air with warm room air to avoid cold draughts in the occupied zone.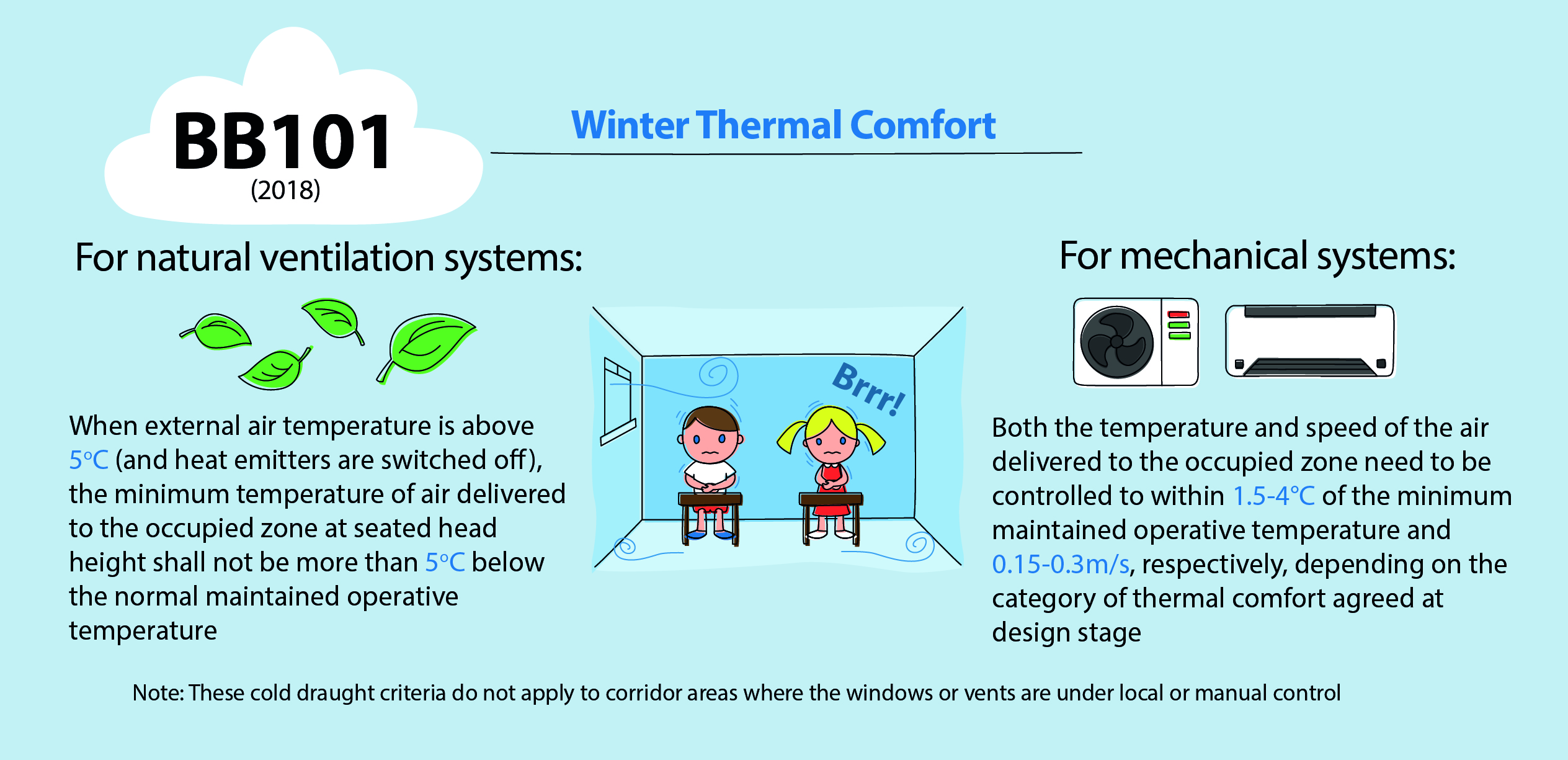 To help professionals involved in the design, specification and construction of schools the Education and Skills Funding Agency has included supporting design tools which are available alongside BB101. Breathing Buildings was part of the advisory board for BB101 and designed two of the supporting BB101 design calculation tools, the cold draught calculator and the CO2 Build up Calculator to aid school ventilation design. Both of which are available on the Government website https://www.gov.uk/government/publications/building-bulletin-101-ventilation-for-school-buildings and on the Breathing Buildings website https://www.breathingbuildings.com/services/free-design-tools/
Breathing Buildings is committed to excellence in school ventilation design and advised on BB101 2018.
Since selecting the most appropriate system for each type of space is crucial for ensuring compliance with criteria in the most effective way possible, Breathing Buildings has also launched a new sector-specific brochure titled 'Ventilation for Schools'.
Click here to download the 'Ventilation for Schools' brochure.
-ends-