Breathing Buildings Launches New Education Brochure
Breathing Buildings, UK's leading provider of controlled hybrid ventilation systems, has launched a new sector-specific brochure aimed at ventilation applications in education. 'Ventilation for Schools' outlines key considerations for ventilation in schools and demonstrates the company's impressive range of natural and hybrid ventilation systems designed for schemes ranging from small nurseries through to large university buildings.
Set out over eight full colour pages, the brochure showcases a range of Breathing Building products including R-Series, NVHR®, S-Series, F-Series and A-Series. The brochure highlights considerations for individual spaces including areas such school halls, IT classrooms, classrooms with sloping roofs and landlocked rooms while also providing details on suitable products for each area. The brochure provides specifiers and building services consultants with advice on ensuring compliance with school building regulations including BB101 and BB93. It also showcases examples of other prestigious installations that have included the featured Breathing Buildings ventilation system.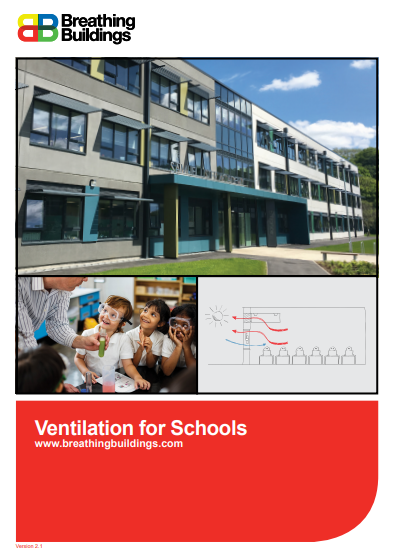 "Education is a key sector for Breathing Buildings," says Matthew Bray, Commercial Director at Breathing Buildings. "Many in the education sector are looking at ways to save energy and have identified low-energy ventilation systems as a way of doing this. Our new dedicated brochure points the way; it provides information on our full range of natural and hybrid ventilation products as well as guidance and inspiration for designers looking to specify ventilation for educational facilities."
To download the Ventilation for Schools brochure, please visit: https://www.breathingbuildings.com/knowledge/ventilation-in-schools/schools-brochure/
-ends-