Sir James Dyson opens the new Dyson Breathing Building at Cambridge University
New Breathing Building at Cambridge Uni
The James Dyson Building and Centre at the Engineering Department of the University of Cambridge was officially opened on Monday 9th May 2016. The building is completely ventilated with Breathing Buildings equipment. The whole ventilation strategy of the building was developed as a team by Nicholas Hare Architects, AECOM and Breathing Buildings. The building uses a displacement ventilation strategy with intake via the perimeter and exhaust via roof based vents. The natural ventilation winter mixing strategy, which was spawned at the University of Cambridge as part of a research project, is used in the building. The Breathing Buildings F-Series range was extended specifically for the building, with a new F350 unit being designed and tested at the Breathing Buildings facilities. Air flow measurements using university derived experimental techniques of exponential CO2 decay measurements were used to establish the actual flow rates in the new units.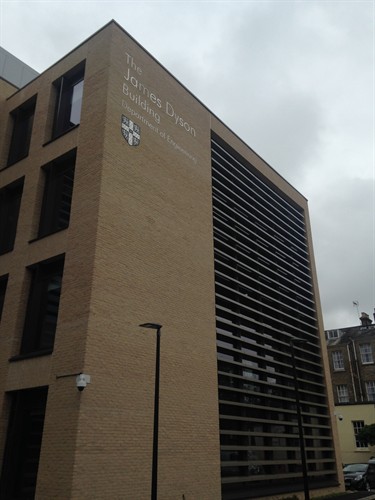 The building is state of the art with the newest ventilation units available to the market. The ventilation control system for the whole building was provided by Breathing Buildings, using temperature and CO2 sensors in all of the occupied spaces, and temperature sensors in all of the mixing units. The unique draught mitigation strategy software, developed over many years by the company, is used in all of the systems so that thermal comfort can be provided throughout the year.
More information on the F-Series units used can be obtained from /products/f-series or by contacting our team of experienced design engineers.