FAQs – Installations
---
Are the units visible within a naturally ventilated buildings?
The e-stack unit itself can be either hidden within a ceiling void or bulkhead, or visible to the space. If visible to the space, the units can be painted to any standard RAL colour.
---
Can the system be connected to a BMS (Building Management System)?
The system has its own controls hardware and software, which allows it to operate as a stand-alone system without BMS input. However, various degrees of interlinking to BMS systems can be realised. Our controllers can include optional MODBUS interface units to allow communication with other systems. This allows certain setpoints to be adjusted from the BMS system, as well as other facilities such as monitoring and logging via the BMS.
---
Can you supply a maintenance service?
We are able to provide a maintenance service. For further details please contact us on 01223 450060.
---
Do your roof terminals allow water to penetrate through the blades?
Although no louvre system can be guaranteed to be 100% watertight under all weather conditions, our louvres are very high performance in terms of rain rejection. The louvre blades have been tested in simulated rainfall of 75 litres/hr (~3inches of rainfall in an hour) with wind speeds of 13m/s (~30mph) towards the louvre blades. The e-stack system operates with air inlet velocities typically under 1m/s when it acts as an air inflow pathway. Water repellent efficiency is described as a percentage of the incident rainfall.
Weather performance specifications are as follows for our louvre systems with insect screens fitted.
Double-bladed louvre system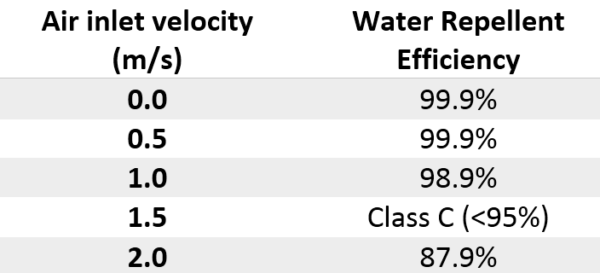 Triple-bladed louvre system
The triple-bladed louvre system provides a higher level of weather performance, providing 100.0% (to the nearest 0.1%) rain rejection for air inlet velocities of up to 2.0m/s, under the same test conditions.
---